Camping details
Open: yearround
Number of camping pitches: 62
Number of appartments: 1
Number of chalets: 1
Total area: 4.900 acres
Altitude above sealevel: 525 meters
















Swimmingpool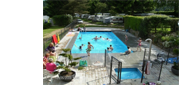 In 2009 we have completed building our own heated outdoor swimmingpool, which is a an excellent addition to our camping. Therefor making it unique in the vicinity. Our well appreciated guests use is free of charge ofcourse. Our pool is closed from September till April.



Attention! In Belgium, the Hygiene Act, wearing 'swimming boxershorts' is prohibited.
Camping pitches
Nestling in the woodland and just one mile from the Lake of Robertville, Camping La Plage has more than 60 numbered camping pitches to offer. Andif you are passing through the Ardennes, please visit us. We are more than happy to accommodate you. There are spots which are 'schadowfree', so you may enjoy the sun. Just in front of your caravan.
Hire a caravan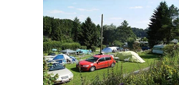 A fantastic service, we rent caravans also. From a two-persons to a six-persons caravan, equipped with a stove, refrigarator, toilet, shower, cutlery, gardenchairs, and table. When you arrive, your temporary home in the Ardens awaits you. Please, bring your own bed linen, towels and bathing towels.
Chalet La Plage
In addition to the pitches we rent Chalet La Plage. A chalet completely renovated in 2022 for 2 to 4 people with an open kitchen and bathroom. In the living room you will find a cozy wood stove.


For more information: Chalet La Plage
Appartment La Plage
On our campingsite we rent the modern fully furnished appartment La Plage. It consists of a two-persons bedroom with two separate beds. You can easily put these together to combine as one double. In the living room you will find a couch, which can be used as a bed.
For more information: Appartement La Plage
Permanent camping pitch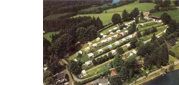 Arrange your second home at Camping La Plage. Your caravan will have a permanent pitch on our site. Whenever you have some days off, or feel like going abroad, the Ardens is a great place to be. An area of outstanding natural beauty; the Lake of Robertville and the hills of 'Hoge Venen' is noted for its walking, biking and birdwatching. Our camping is a well maintained with all facilities at hyour service. If you are interested and need more information, please send an e-mail to the address on the contact page. contact page.
Our grocery
Our grocery offers a modest number of merchandise; softdrinks, beer, coffee, tea, sugar, siege, vegetables, canned vegetables, candy and icecream. French fries and snacks are also available, however not daily. If you a need for fresh bread, you are sure your order can be picked-up the next day. Our grocery offers carerboys of difoof different brands and volumes. Go to the Grocery page: Grocery La Plage
Canteen
Camping La Plage's canteen is an entertaining facility with 75 seats and a bar. An ideal place to relax at the fireplace, and for fun. In the summertime, the terrace will be open also. Opening hours: 21.00 till 24.00 hours. Go to the page of the canteen: Canteen
Sanitary
Our sanitary facility has all the services one needs: showers, toilets and sinks to do the dishes. The facility is cleaned during the day. We also provide a launderette service: delivered today, clean tomorrow.